Restaurant Trends in 2021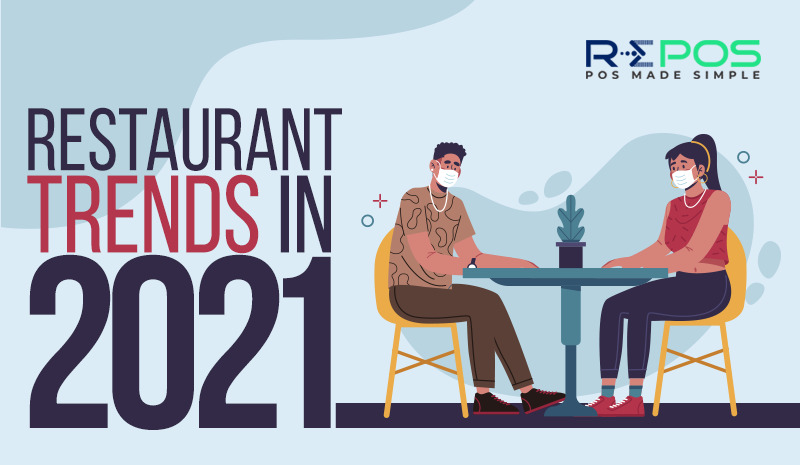 Change is the only constant, and the F&B sector is no exception to this. With each passing year, the older trends fade off and newer trends are adapted by the restaurants. Based on the industry statistics, approximately 50-60% of restaurants have either shut down temporarily or have closed entirely whereas others are struggling for their survival.
The restaurants that stood strong despite the pandemic wave, stand a better chance to survive in the long run as they have been through the lowest lows faced by the Industry. Figures also show that there have been many people who entered the industry but didn't have any adequate knowledge about the same and were just fascinated by its glitz and the glamour. Such ventures have been completely washed out.
Post this era, the restaurant businesses that have survived definitely hold a good chance for expansion. Also, new budding entrepreneurs, chefs, and hospitality professionals who wish to make a mark in the industry have a great chance to venture out.
The world has changed its way of functioning, and so has the F&B industry. Some of the trends which could be seen in the year 2021 are listed below:
● Contact-Less Ordering:
In order to achieve contactless ordering at your outlet, placards with QR code can be placed on each table. On scanning the QR code, the contactless ordering can happen in the following 2 ways:
1. An online menu is opened from which they can place the order to the captain. This way the extra effort of sanitizing the printed menus is reduced.
2. An online menu opens where the guests can place the order. The order then gets sent directly to the kitchen for preparation. This system has to be connected/integrated with your existing restaurant POS Software for effective implementation.
● Ghost Kitchen / Cloud Kitchen:
The current patterns show deliveries and takeaways have occupied a substantial percentage today, as compared to what it was before. Based on the way ghost kitchens operate, this format has been experiencing tremendous growth and is predicted to rise in the coming period due to the various advantages it has over any other restaurant format. Some of these advantages are listed below:
This is a LOW INVESTMENT MODEL as there are no interior designing costs or any major overhead costs.
No prime location is required to start this restaurant format.
Lesser rental expenses compared to starting a restaurant in a prime location and spending on the interiors and other overhead expenses.
Overall operational expenses are reduced as the staff required is minimum. The cleanliness and maintenance requirements are mainly from the kitchen perspective.
The multi-brand kitchen can be operated from one place itself because this type of kitchen requires only chefs, helpers, and cleaning staff along with a POS machine to coordinate productively.
● Garden Restaurants / Terrace Restaurants:
Due to the lock-down, restricted timings, night curfews, etc, people have been craving to move out. However, many don't think it to be a safe option to visit dine-in restaurants.
However, a new trend has been seen that people are preferring to go to a property which is open to air as compared to an air-conditioned restaurant. They feel that going to a former kind of a property is more preferable as compared to the latter from the spread of infection point of view.
● Social Media:
Most of the Gen z and millennials are glued to social media. This increases the chances of choosing your restaurant over others based on the ratings and the reviews that your restaurant has on various social handles.
You need to engage with guests on social media on a daily basis to get discovered. Apart from the number of posts related to food and restaurants that are posted every day, timely engagement with the guests will make an impactful difference and hence increase your chances to be chosen by 70%.
● Hygiene:
Maintaining hygiene in your outlet is the utmost important thing. According to some studies, around 72% of the general public, who is attracted to your outlet, is actually due to cleanliness. Moreover, considering hygiene should be a priority but was not given importance by people when selecting a restaurant during pre-covid times, however now this has become the primary criteria for everyone. The pandemic has directed restaurants of each and every scale to maintain hygiene in order to attract more sales.
● Eco Packaging:
Because of Covid 19, disposable material in packaging has increased rapidly. Pollution levels have escalated which has brought eco-friendly packaging to light. Given that restaurants serve food in disposable materials and boxes, the use of eco-friendly materials is indispensable.
Conclusion:
To conclude the points stated above, restaurants in India are moving towards eco-friendly options. Customers nowadays seek a sanitized and clean environment when choosing a restaurant. In order to regain your customer's trust and to retain in the industry, you can choose the social platforms to help you achieve that.
Do any other trends come to your mind? Let us know in the comments section below.
Disclaimer:
These techniques are subject to change with the business types. There are chances that these may not apply in your restaurant format. As stated above, we have tried to cover as many sectors as possible. Figures mentioned above are in approximation and based on our research.